Custom Mobile App Development
For Realtors, Brokers and Investors
Its Time To Harness The Power Of Mobile App Store
We are excited to announce a powerful service from our team at WhyNotHomes.com.

We are building beautiful, custom and location targeted mobile apps for realtors, brokers and investors. Your prospects will search your listings directly through your custom built app. Then you can engage prospects directly, send them location based notifications and even announce a open house when users are within a designated radius of a location, all through your custom digital mobile application.

[Note: You really need to check out our "Location Gate" technology. If you have an open house, you can set up a simple notifications to appear on someone's phone if the user enters within a specified radius of your property location. Its incredible. It could even alert an"Open House Nearby" down to 500 feet in radius. Its the future of realtor tech. But more on that later...]
---
Build Local Trust
With Your Own App

As prospects search for homes in your local market, they will use your app to see your homes available. Plus, you can target your customers based on their exact location.

How many realtors can say they have a mobile app?
​Now you can.

Build rock-solid trust, and upgrade your marketing with your own custom app on the iOS and Google Play app store. ​See out features below.

---

Ready To Build A Custom App For Your Brokerage?
​Book a call with our team today.
---
Smooth Design To Impress Your Clients

As your clients use your app, their first impression will be "Wow, this is a beautiful mobile application." They will interact with every page and listing in a smooth and clear way.

Often buyers think about their next home for months, or even years. But they don't hire a realtor until they fully trust their skillset and professionalism.

As a user scrolls through your mobile app, they view your team as an authority in the local market. You become thier trusted partner in their major buying decision. This app design, starts the trusted process.
---
Add All Your Listings
With our custom map and listing feature you can add all your listings in one place. Your clients can use your custom app to search all your properties.

Plus they can see images, descriptions and current distance of the property, all from your mobile app.

As you add listings, your prospects will be able see every detail that appears throughout their mobile experience.

Plus your users can filter homes based on their preferences.
Location Based Alerts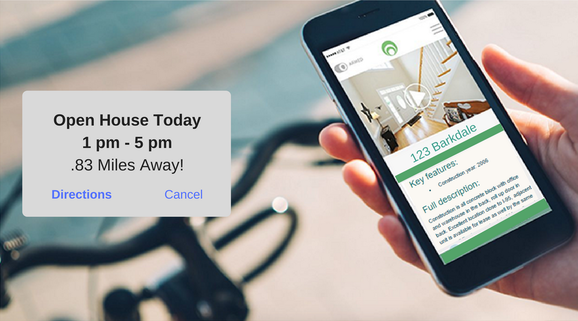 "Location Gate" Push Notifications
An powerful feature of our app platform, is the ability to send custom notifications based on the users GPS location. Now when its time to have a BIG open house in the best neighborhood, you can set up a rule based notification. When someone is a certain radius from the home, their phone automatically get a push notification sent to them! This will create loads of foot traffic right into your listing. As buyers crowd into your property, the competition creates a buying frenzy. All from a simple app notification.
---
Smooth Design

Build a Beautiful App

Location Gate Push Notifications

Grab Customers Attention

Based on their location. The notification pops up when they are close.

Custom Listing Map Tool

Add Your Listings To The Custom Map Tool
---
Ready To Build a Custom App
​For Your Real Estate Business?
"We have an incredible development process. Our team is changing the game for realtors all over the world. Its time to own the mobile app space in your local market, before someone else does. Are you ready? Email me today. ​zach@whynothomes.com

Its time to have your own custom mobile app
on the app store. And be the #1 realtor in your market.

Lets Set Up a Call

Set up a quick call with Zach Calhoun, founder of whynothomes.com.

Email him here:

Zach@whynothomes.com

On our call we will discuss

Our development process
How we will work together step by step
How our app makes your look incredibly trustworthy and valueable (taking you to the next level)
How we plan to lower our development cost, and make mobile app development within reach for realtors and brokers
---